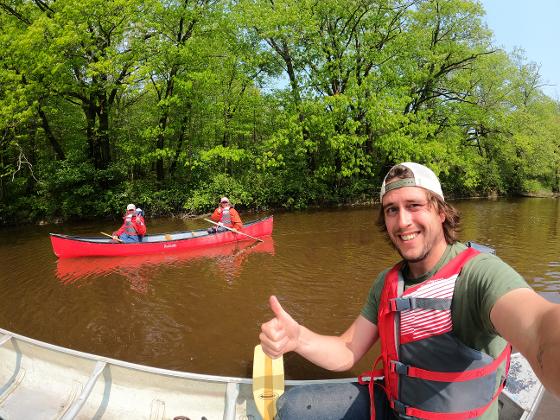 ECO-CANOE TOUR ($75 per person PUBLIC, $85 per person PRIVATE) NEW!!!

You're looking at Niagara Peninsula's FIRST and ONLY professional guided canoe experience! Join your local biologist tour guide for the Eco-Canoe tour on Niagara's tranquil creeks, as they wind their way through
picturesque forests, wild wetlands and culturally unique areas.
This truly exclusive tour is the only style of its kind, and you will see Niagara in ways that visitors and locals would not!
Just like my hiking tours, you simply meet me at the provided launch spot, and I will have the canoes and
your safety gear ready. All of the offered Eco-Canoe tours take place in the family-friendly, safe and gentle backwaters of Niagara's hidden creeks, which can be paddled both upstream and downstream. There is no open
lake water or rapids. This allows us to enjoy the wildlife sightings and scenery at a pace the group wishes
to enjoy.
We will not be canoeing over Niagara Falls!
Please scroll down to see options you may choose from.

Duration: 2 hours on the water; 5 hour options exist for a larger outing on Black Creek
Difficulty: Easy - no rapids, strong currents, or open lake water

Eco-Canoe Tour Requirements for Participants:

-MUST be able to swim, including in cold water during spring / fall months
-Maximum group size: 7 paddlers
-6 + years of age; children under 13 must be paired with an adult
-No prior paddling experience is required
-Must wear footwear which will likely become wet, muddy, or submerged

Big Forks Creek (AVAILABLE)
Be prepared to ask yourself if you're in Niagara, or in the Amazon jungle. This lesser known, rural creek
snakes its way through a forested zone adjacent to the much larger Welland River. Knowing that we are
paddling through the most biodiverse region in all of Canada pairs well with the jungle-like lushness, and it is one of the few spots in Niagara where you won't hear traffic! We practice some basic canoe maneuvers as we weave around and under trees, which serve as excellent fish, turtle, and wetland bird habitat. We also pause under giant, beautiful overhanging branches to rest in the shade. It is highly unlikely we would see other paddlers in this remote stretch of backwater, which implies that wildlife sightings in the forest from the perspective of your canoe should be amazing.

Fifteen Mile Creek (AVAILABLE)
The first time I had ever paddled this creek, my friends and I dubbed it as "Lily Pad Heaven". As Fifteen
Mile Creek slowly weaves its way down towards Lake Ontario, the lowland area opens up into a sea of
lily pads which flower beautifully in the summer. The open vistas on either side of the creek allow for
excellent bird watching opportunities, while turtles, beavers, and frogs traverse amidst the lilies. Equally
as exciting is the ecosystem if we travel upstream. The creek begins to narrow as the rich Carolinian
forest closes in over the water. We duck under the occasional branch and see massive exposed roots on
the bank, where American mink and herons hunt for their next meal. Depending on the season, we also portage for a couple of minutes and paddle through a historical scenic tunnel as it passes under a railway line, which is superb for photos. Depending on how long we want to be on the water, both the upstream and downstream portions can be explored in the same outing.

Frenchman's Creek (AVAILABLE)
This is one of Niagara Region's most underrated and lesser known paddling experiences. This Fort Erie
creek is a delight for bird watching and a gentle, serene paddling experience. Start your journey with
grand views of the upper Niagara River. We briefly paddle on the river in order to enter the mouth of
Frenchman's creek, so you can say you canoed on the world's most powerful river! The creek "S bends" its
way through secondary growth forest and several wetland features. Being so close to the Niagara River, an internationally listed "Important Bird Area", the bird viewing opportunities here are abundant, including great egrets, kingfishers, bald eagles and wild turkey. We also get up close to a beaver lodge and may see the rare spotted gar fish. The calm creek is explored upstream until we run out of room or water depth, where we can stop on the bank to soak up some sun before paddling back out.

Black Creek (AVAILABLE)
Flowing from the wetlands of Stevensville down to the mighty Niagara River, Black Creek is a natural and
cultural one-two punch that is hard to beat. This creek can be explored in a variety of ways, based on
start points and how long you desire to be paddling this Niagara gem. From its most inland point at
Stevensville Conservation Area, Black Creek goes from rippling water to a calm lazy river floating by
cutesy backyards and lush forests. There is also a locally owned pub on the water called "The
Scuttlebutt" which we can stop at. The creek then moves through a mosaic of farmland with scenic
barns, a golf course, and back to more remote wetland features before entering the village of Black
Creek itself. Paddling through the village is like taking a trip through Louisiana, seemingly out of place in
Canada as giant trees drape over the countless floating docks and compact boathouses, where massive
fish from the Niagara River hide underneath.

Sixteen Mile Creek
We paddle over an open area of water with steep banks coated in forest, with our sights set on an island
we explore on foot. Bald eagles have been seen swooping down from these banks to snatch fish out of
the water here. A tall, dome-shaped island emerges out of the water with windswept trees and grasses.
In Niagara, it is rare to find an island in one of our freshwater creeks. We explore this isolated micro-
ecosystem by pulling the canoes up on the gentle slope side of the island, and then we take time to
explore it on foot and perhaps enjoy a lunch break here. The higher vantage point of "Turtle Shell" island
is great for bird watching and looking for turtles and fish in the water down below. For a slightly longer
tour, we paddle upstream a little further to a beaver dam which we can paddle right up to and touch.

Twenty Mile Creek
One of my favorite hiking tours turns into one of my favorite canoe tours as Twenty Mile Creek exits the
rocky Niagara Escarpment into a broad, beautiful flat water adventure through a large marsh. We start
by observing an area known for salmon and other fish runs. With a gentle current, we launch past a
historical farm where goats, geese, and other animals come down to the bank to watch adventurous
paddlers. As we paddle past the farm, wildlife sightings become frequent as the creek braids its way
through marshes and small treed islands. Secret narrow channels act as links to larger water areas,
where bald eagle and kingfisher sightings are possible. We pass under the Jordan Station train tracks as
if we're back in time, and then paddle back to our original launch spot.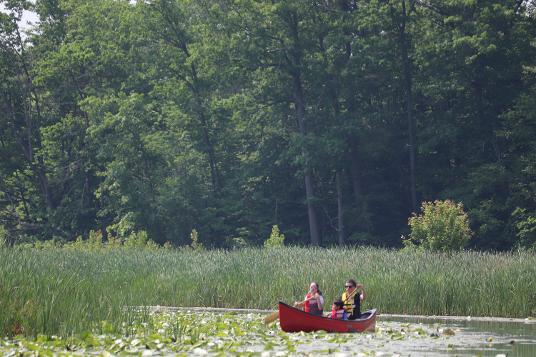 Copyright Owen's Hiking & Adventures